As many believe the crypto market has taken a turn for the positive, where many see we have hit the bottom with bitcoin going below $40,000 and are for a upward trend. There will be many coins that will out perform Ethereum in this cycle.
The Fantom (FTM) blockchain and one blue-chip decentralized finance (DeFi) platform are gaining traction among crypto analysts.
Smart Contracter, the pseudonymous cryptocurrency analyst on Twitter, tells his 201,500 followers that cryptocurrencies in the Fantom ecosystem are rallying.
"It's Fantom season as far as I'm concerned, literally every coin on Fantom is turbo sending right now."
Fantom is a smart contract-enabled blockchain designed for high performance, and FTM is currently trading at $2.83.
Next up is DeFi platform Aave (AAVE). Smart Contracter says that AAVE has bottomed and predicts that 2022 will be a better year than 2021 for DeFi-related crypto assets.
"Strongly believe a major low is in for AAVE. 2021 was tough for DeFi as a whole but I think 2022 is going to be round two."
According to the analyst's interpretation of the Elliott Wave Theory, AAVE has completed the dominant five-wave pattern heading upwards and the three-wave corrective pattern heading downwards. AAVE is now set to continue with the dominant trend when paired against Tether (USDT), according to Smart Contracter.
AAVE could also outperform Bitcoin (BTC), according to the crypto trader.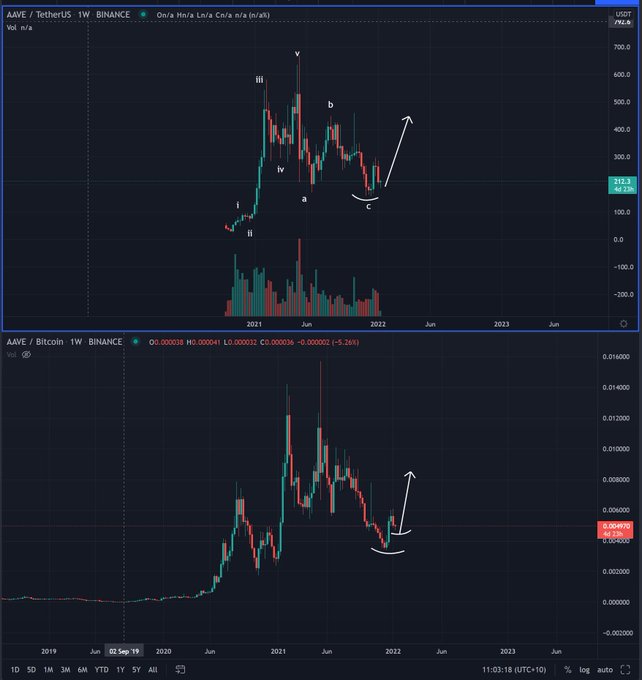 Smart Contracter also says that the sighting of a bullish pattern on the tech-heavy US stock index Nasdaq 100 "bodes well" for Bitcoin.
According to the crypto analyst and trader, the Nasdaq 100 index has formed a bullish ABC pattern on the daily chart.
The ABC chart pattern consists of three inflection or pivot points and can either be bullish or bearish. In a bullish ABC pattern, the A inflection point is a low, the B inflection point is a high and the C inflection point is also a low.
"Nasdaq looking really nice here for a new all-time high – clean ABC structure on the daily chart and turbo bounced on volume into the close.
Also thinking it bodes well for BTC seeing as it practically topped when tech did albeit more sharply."