These days, the metaverse is everywhere, despite technically being nowhere. (Its entirely virtual existence is, after all, what makes it so appealing.) However, it's not a completely new concept. Snow Crash, a science-fiction novel by Neal Stephenson, introduced the term back in 1992.
Thirty years on, and the true realization of the metaverse is still at least decade or so away, but the promise of this virtual ecosystem is starting to become tangible. "The metaverse is poised to become the fabric that binds our society and culture together through connected, third-platform places," said Cassandra Napoli, Senior Strategist at WGSN Insights in a session at the NRF Big Show. "With it will come the meta-economy, which will power new opportunities for work, wealth, status and identity, and will impact how consumers communicate, play, shop and learn."
According to Napoli, as of November 2021 only 31% of U.S. consumers said they have a very good or somewhat good understanding of what the metaverse is, and yet by 2024 the global metaverse revenue opportunity could reach $800 billion.
That's a number companies can't afford to ignore, and indeed opportunities abound for brands that are ready to dip a toe in the meta-waters. "While the metaverse will take decades to reach its full potential, there are lots of entrance points that brands should be thinking about now, from gaming platforms like Fortnite and Roblox to AR and NFTs," Napoli explained. "Brands must begin to wrap their heads around these immersive virtual spaces and plan their corporate metaverse strategy or run the risk of falling behind."
As with most things in life, the challenges that exist in the metaverse today also present huge areas of opportunity. Here we break down four of the main friction points (and areas of potential) as detailed by experts at the NRF Big Show, including:
Infrastructure — much of the metaverse is still being built, but that means this is the moment to get in on the ground floor;
Talent — entering the metaverse requires entirely new skillsets, and competition will be fierce for meta-professionals with the required expertise;
Accessibility — in many ways virtual ecosystems are opening up access to the world, but expensive hardware and disparity in internet access still present challenges; and
Generational differences — consumers of different ages are already using the metaverse very differently, so brands must assess where their customers are to map out the best metaverse strategy.
#1: Infrastructure
"Presently, the tools and tech available really only allow us to experience the metaverse in its most basic form, a sort of web 1.0 version of what the metaverse will someday become," explained Napoli. "But as the tech catches up over the next decade or so, and as more consumers become comfortable with it, it'll become an interactive, immersive and social virtual space that will be roamed widely."
There will need to be significant tech advances to reach this point, and companies also will need to develop applications of that tech across a range of use cases. (Many organizations are already working on this – check out this great infographic from Newzoo for a run-down of who's doing what.)
Some of the areas most ripe for development include:
• The "avatar economy"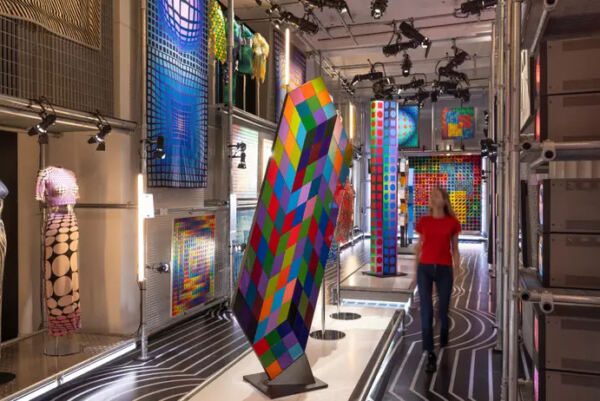 Not only will consumers need ways to create their virtual avatars, but they're also going to want ways to personalize them. As Napoli put it, "Avatars will extend the scope of storytelling for brands," offering huge opportunities for brands to connect with consumers in new ways as well as to help facilitate transactions. Selfridges has jumped on this bandwagon, announcing that it will become the first retailer to sell NFTs "over the counter" in one of its London stores. Purchasers can pay with a traditional bank card (no cryptocurrency required).
Napoli also outlined the rise of the direct-to-avatar (DTA) commerce model, a variation on DTC that will allow brands to "sidestep supply chains" and sell products that don't exist in real life directly to avatars. Ralph Lauren CEO Patrice Louvet revealed how the luxury brand sold 100,000 units by offering digital apparel for avatars inside of Zepeto, a South Korean metaverse. Other forerunners in this space include Genies, which just teamed up with crypto gaming company Dapper Labs to create an NFT storefront called The Warehouse that will sell NFT accessories for $20 or less, and Bitmoji, which is already in wide use across social media and gaming platforms.
• The wider "meta-conomy"
As the metaverse matures an entire alternate, or rather parallel, economy will develop around it that mirrors the real world. NFTs will be a crucial component of exchanges in the metaverse, creating the base format to trade and ensure ownership.
The space has seen huge growth in the last year. In Q3 2021, NFT trading reached $10 billion, up 704% from Q2 2021, said Napoli. Over the course of the year, the NFT market surpassed $40 billion, and Morgan Stanley predicts that by 2030 the NFT market will be worth $240 billion.
Clearly there's huge opportunity here, not just in the creation of NFTs but also the mechanisms and spaces for selling and buying them. And this is just the start — the meta-conomy will eventually be as nuanced and intricate as that of any major country.
• Meta real estate and architecture
And then there's the space itself, which while not occupying any real land has a very real price tag. The virtual real estate market is booming. "This is like buying land in Manhattan 250 years ago," said Andrew Kiguel, Co-founder and CEO of crypto investment firm Tokens.com. The priciest deal so far has been Republic Realm's purchase of 792 parcels of land in The Sandbox metaverse for $4.3 million, and this looks to be just the beginning. And just as in the real world, all that virtual land will need development, creating a whole new playground for architects, designers and more.
#2: Talent
While metaverse activities mimic those of the real world in many ways, making them an actuality requires entirely new skillsets not found among most company's current employee rolls.
"As more brands enter the metaverse, they will hire new people to power it," said Napoli. "We're already seeing dedicated teams emerge, in a similar way to what we saw with social media companies and influencers in the last two decades. Don't be surprised if within a couple of years you have a Meta team on your roster."
Some brands are already at the forefront of this critical area. Facebook is hiring 10,000 new workers across the EU to power its metaverse, while fashion brands Balenciaga and OTB (owner of brands such as Diesel and Jil Sander) have both launched dedicated business units to power their metaverse efforts.
During a fireside chat with Coresight Research Founder and CEO Deborah Weinswig, Liz Bacelar, Executive Director of Global Tech Innovation for Estée Lauder Companies, also noted that her team is focusing on employee acquisition for this emerging area. Bacelar even predicted that there will be intense competition among tech players and retail brands alike as they try to win talent with expertise in metaverse design and architectural development. "It's hard to find extended reality talent," Bacelar said. "I don't like to create noise just to create noise, but I do want to send a very clear message to the tech community that we're serious [about the metaverse]. There will be companies fighting for talent, and we're in on that fight, too."
#3: Accessibility
While the metaverse is hypothetically available to anyone anywhere, not everyone will be able to afford access to the hardware and high-speed internet needed, creating the very real possibility of income inequality from the real world trickling into the virtual one.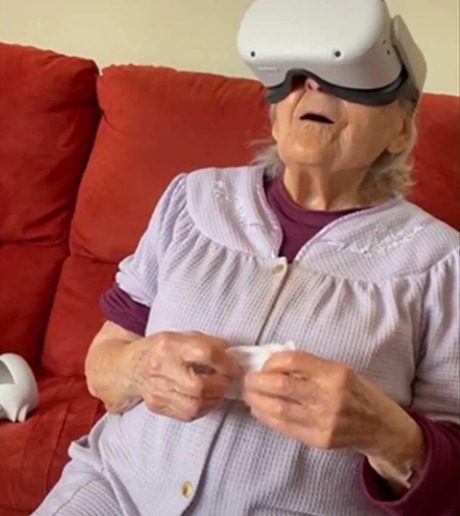 On the other hand, the promise of the metaverse is expanded access to products and places that would not otherwise be possible for many people. Napoli talked about the concept of "reality privilege" and how the metaverse could eliminate this inequality: "Individuals with 'reality privilege' live, work and play in inspiring and stimulating real-life environments, but for those that don't have reality privilege, the metaverse will unlock an immersive, imaginative and inspiring world that they will not otherwise have access to." To see this in action, check out this great video of a 100-year-old woman getting the chance to visit her hometown cathedral in Armenia via virtual reality.
Bacelar also noted that the metaverse will create greater access for people who want to attend events but cannot do so due to time constraints or even physical disabilities. She pointed to the success of the Consumer Electronics Show (CES) as a powerful example. Although few people attended the event in person due to COVID concerns, thousands logged in virtually, ultimately helping CES amplify its reach. "The metaverse could be a very powerful tool to create equity among consumers and employees with disabilities," she said. For example, imagine being able to forego a plane ride to a client meeting and instead dressing your avatar in business attire and venturing into a shared virtual meeting space.
Products like NFTs might also give consumers the chance to engage with and experience high-end brands they might not be able to afford IRL. "For Chanel or Burberry or Gucci, brands that typically have an entry price point, the first interaction you might have with that brand might be a lipstick for $30," Karinna Nobbs, founder of the fashion NFT marketplace The Dematerialised told Glossy. "An NFT might be an alternative for an entry relationship with that brand. NFTs are the perfume or lipstick of the future."
#4: Generational Differences
As older generations experiment in the metaverse and younger ones grow up in it, a disparity in the way consumers use the metaverse has begun to emerge. Napoli predicts that the metaverse will be central to existence for younger generations, but older generations will see it as a space for occasional use to escape the real world rather than replace it.
"Whereas millennials were digital first and Gen Z were digital native, Gen Alpha — who are presently zero to 12 years old — will be the first generation to grow up in the metaverse," said Napoli. "Learning and socializing will all take place in the metaverse for Gen Alpha; they'll prefer digital goods to physical ones. But while Alphas are already living in this world, millennials and Gen Z are using it to escape."
This fact is one of the key drivers behind Facebook's rebrand and push into the metaverse, Napoli said: "Facebook is in decline for youth. In 2012, 94% of teens had Facebook accounts, but in 2021 just 27% of teens said the same. What's really fascinating though is that as of as of November 2021, 51% of U.S. 18- to 29-year-olds said they were interested in participating in the metaverse, which was the highest percentage of any demographic polled. As Facebook continues to struggle to attract young users and court Gen Z, powering its own metaverse, accessible via its Oculus VR headset, could really help." It seems to be working — on Christmas Day, the Oculus app was the most popular app in the Apple App Store.
Not everyone will be Facebook/Meta of course, but every company will have to carefully consider its core customer demographics in order to build out successful metaverse experiences. Bacelar encouraged brand leaders to map a possible path to adoption. While there are certain capabilities she believes every retail and consumer brand should implement, such as virtual try-on, some things won't be vital to a brand.
For example, Bacelar and her team mapped out a decision-making matrix based on the ultimate value certain elements of the metaverse had to Estée Lauder as a business and where their consumers actually were. "This isn't social media. It's so complicated, so take the time to educate yourselves," Bacelar advised. "Create your avatars and figure out what it all is. See how consumers in different countries are interacting and behaving with all of these technologies."